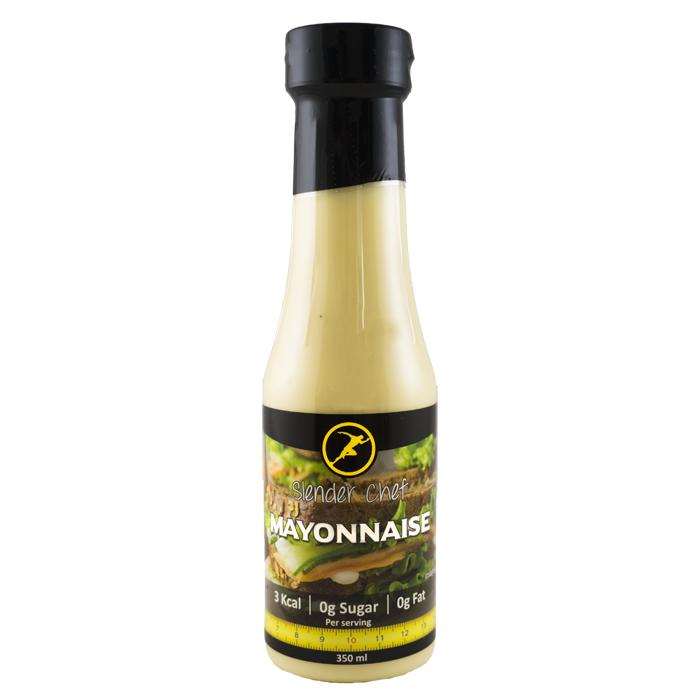 Slender Chef
Is a rich, creamy low calorie sauce with mayonnaise flavor. Perfect for making healthy recepies that taste great without all those extra calories. Contains sweetener.
Nutritional value:                 Per 100g         Per 15g*
Energy (Kcal)                         17 Kcal             3 Kcal
Energy (Kj)                             68 Kj                10 Kj
Fat                                            0g                     0g
Carbohydrates                       2,6g                  0g
– of which are sugars            0g                     0g
Protein                                    0,4g                  0g
Fibre                                        2,2g                  0g
Salt                                           2,2g                  0,3g
*one serving (15g)
Ingredients:
water, vinegar, salt, modified potato starch, free-range egg yoke, citric fibres, thickeners: cellulose gum, guargum, xanthaan gum; mustard (crushed mustard seeds, vinegar, salt, aroma), acidifier: citric acid, herbs, spices, preservetives: potassium sorbate, sodium benzoate, sweetener: (sucralose, saccharin), aroma, colouring: (titaniumdioxide, carotene), anti-oxidant: calcium disodium.
– Allergens are shown in bold letters.
Best before: See neck of bottle (MM/DD/YY)
Store in a cool place away from sunlight. Open bottle is stored in the fridge. Shake bottle before use.