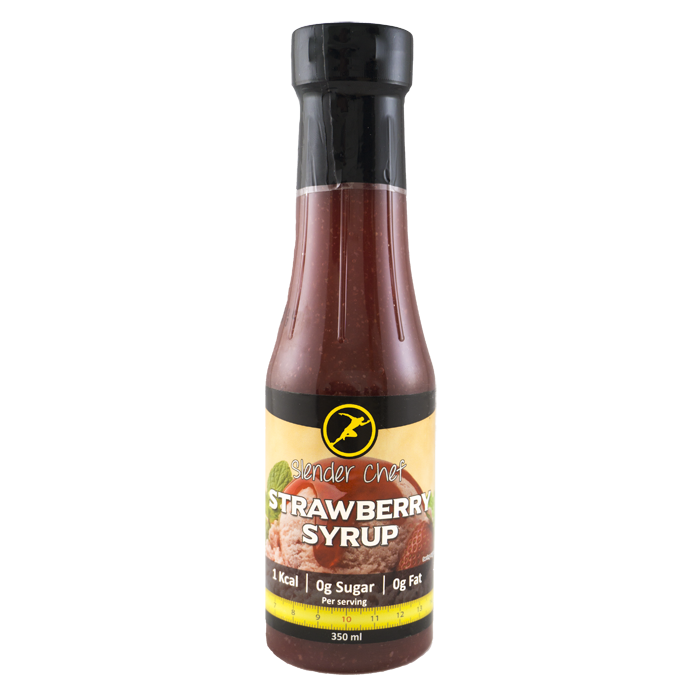 Slender Chef
Is a sweet, creamy low calorie syrup with a fruity strawberry flavor. Perfect for making healthy recepies that taste great without all those extra calories. Contains sweetener.
Nutritional value:             Per 100g         Per 15g*
Energy (Kcal)                     4 Kcal             1 Kcal
Energy (Kj)                         18 Kj               3 Kj
Fat                                         0g                   0g
Carbohydrates                    2,3g                0,35g
– of which are sugars         0g                   0g
Protein                                 0,08g             0g
Fibre                                     0,88g             0g
Salt                                        0,28g             0,04g
*one serving (15g)
Ingredients:
water, thickeners: (cellulose gum, xanthan gum, guar gum) dried strawberries(1%), acidifier: citric acid, coloring: sulphite ammonia caramel, carotene), salt, strawberry aroma, black carrot extract, preservatives: (potassium sorbate, sodium benzoate), sweetener: (sucralose, saccharin).
– Allergens are shown in bold letters.
Best before: See neck of bottle (MM/DD/YY)
Store in a cool place away from sunlight. Open bottle is best stored in the fridge. Shake bottle before use.